Hao Ping Creations
Hao Ping - born 1952
Hao Ping I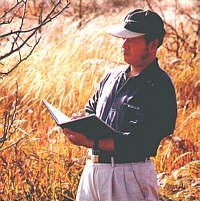 Chinese Printmaking Today - Article
Mr. Hao Ping
copyright Hao Ping
In May 2003, we at artelinoreceived our first modern Chinese art prints. We were amazed and are beginning to learn about contemporary Chinese printmaking and artists. Hao Ping is one of them - an established artist, whose works were shown in a great number of exhibitions inside and outside of China. His art works are in possession of Chinese, Korean, British and US museums.
We received the information on this page about Hao Ping from our partner in China. The last section titledOur Personal Impression reflects our personal opinion based on the prints we see.
The Career of Hao Ping
Hao Ping was born in Yunnan in China. In 1980 he graduated from the Department of Fine Art of Yunnan Art College.
In 1986, he fulfilled studies at Central Fine Art College. In 1990, Hao Ping became a member of the evaluation committee of the National Youth Print grand exhibition. And in 1992 he became jury member of another important print and painting exhibition committee.
Hao Ping is a member of different Chinese artist associations - the Chinese Fine Artist Association and the Chinese Print Artist Association.
Exhibitions in China and Abroad
Hao Ping II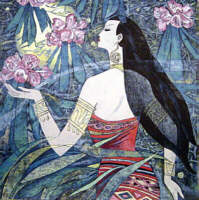 Chinese Prints - Article
Moonlight in Forest, 1998
copyright Hao Ping
Prints and paintings by Hao Ping were widly exhibited in China, the United States, Japan and Europe. The following national and international exhibition events were listed - some without mentioning a year:
Chinese modern print painting exhibition - Japan
Modern Chinese print painting exhibition - U.S.A.
China Yunan multiple color painting exhibition - U.S.A.
Yunan contemporary multiple color painting exhibition of 8 artists - France
Yunan painting school painting exhibition - France
1992 - European Community art festival fine art work exhibition - Netherlands
1994 - Hao Ping personal work exhibition - Germany
Exhibition events in China:
1983 - prominent work award at the 8th national print exhibition
1985 - granted with print world prize
1989 - copper award of the 7th national fine art exhibition
1990 - granted with print world award and Lu Hsun medal
1992 - 11th national print exhibition
1994 - copper award of the 12th national print exhibition
1996 - gold award of the 13th national print painting exhibition
1998 - 14th national print painting exhibition
Collections
The works of the artist are in the possession of several museums in China and abroad.
1998 - China Fine Art Museum
1990 - Asia Pacific Museum, U.S.A.
1991 - Hsiangsheng Forest Fine Art Museum, Japan
1994 - Shenchun Fine Art Museum
1996 - Kiangsu Fine Art Museum
1996 - Lu Hsun Fine Art Museum
1996 - British Woodcut Foundation
1998 - Shenchou Print Museum
Our Personal Impression
Hao Ping III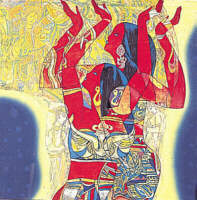 Chinese Prints - Home
Flying Dance, 1995
copyright Hao Ping
When we saw prints by Hao Ping for the first time, we were astonished. We had never seen anything comparable before. A world of dreams is unfolding in front of one's eyes. Strong colors and exotic forms, fairy-like female bodies seem to hover in front of you.
The impressiveness of Hao Ping's print works are underlined by their large sizes - from 60/60 cm (23.4/23.4 inches) to 90/90 cm (35/35 inches). The artist seems to prefer quadratic formats. All prints are limited editions with edition sizes from 30 to 200. They are signed, dated and numbered by the artist and were made in woodcut technique with multiple color blocks and personally printed by the artist on offset paper.
With auction prices starting at $120 (note: this price was in 2003; now prices are considerably higher) for a print of the size of 60/60 cm, these prints are available at a fraction of what a collector would have to pay for a print by a contemporary Japanese, European or American artist of a comparable international reputation.
We at artelino do not recommend to buy art as a financial investment. But if the protection of your financial expenses is an aspect for you, contemporary Chinese prints from artists like Hao Ping are definitely a hot recommendation. For a little bit more than what you would have to pay for a poster, you get an original work of art by a renowned artist, signed and numbered - what more could you want?!
Dieter Wanczura
(May 2003, updated May 2009)